The Flagler Sheriff PAL organization will begin an evening program this summer called "Dusk with Deputies." Each event night will have organized games with Deputies and prizes for the children. This program is partnered with the YMCA. The goal is to make this program enjoyable and provide safe evenings for the kids. Each summer they will pick 3 different parks in the community and hope the program keeps building.
Children going into 3rd -8th grade are welcome to attend.
Early Registration $ 20.00 for 6 nights of fun after June 19th $ 25.00.
Registration includes a t-shirt and hot dog at opening night kick off.

Please contact the Flagler County Sheriff's office for any questions and early registration. 586-2655
All programs are from 6pm - 10pm.
Thursdays - Ralph Carter: June 20,27 July 11,25 Aug 1,8
Fridays - Hidden Trails: June 21,28 July 12,26 Aug 2,9
Saturdays - Eddie Johnson Park or Carver Gym: June 22,29 July 13,27 Aug 3,10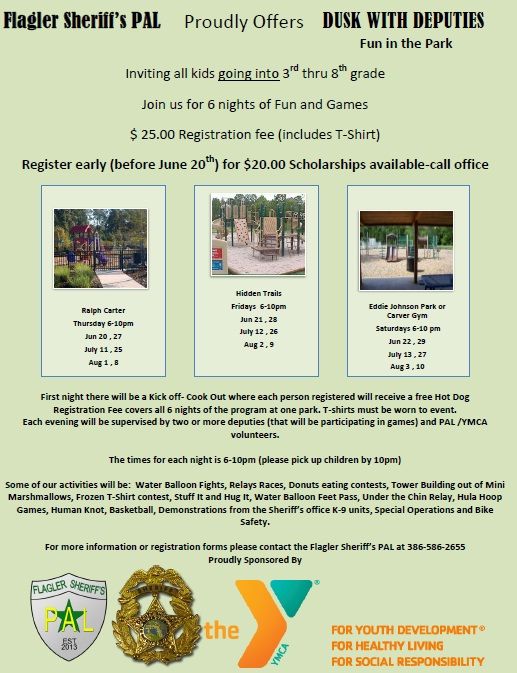 Also if you know any high school students looking for volunteer hours for scholarships please have them call (386) 586-2655, they can help organize the games with the little kids.
Always verify event information before going. Event information is subject to change.